When I wake up in the morning the very first thing I do is give thanks for seeing another beautiful day. After that, a girl needs her coffee. My heart glows when I see my beautiful family sleeping so peacefully. My heart breaks whenever anything is wrong with Maxim and Chloe, my amazing children who make sure there is never a dull moment in the house.
My clients are my everything. More than anything else, I care about helping them have a stress free experience.
In my world a poppin lipstick (Flat Out Fabulous, Ruby Woo, & Lady Danger by Mac) is an absolute necessity. Having a pretty cocktail is always a fabulous idea. Always following the rules is overrated and being untrustworthy is a definite no. Fantasizing about Idris Elba is totally reasonable. (I kid, I kid! Sorry babe).
Striving for success in all that I do is a must, but at the end of the day my tall, handsome husband and the most beautiful babies in the world is all that really matters.
When I die, I want to be remembered as a person who planned beautiful events, have a son and husband who loved me to the moon and back, and that you'd never know when I was having a bad day because I always looked FABULOUS! I want them to say that she inspired others to always think positively, to never give up on their dreams, and when the going gets tough all you have to do is smile and pray.
I've planned events for the last 13 years and it's just my thing. I'm also the owner of Ivory Bridal in Atlanta. A bridal boutique for the stylish curvy bride. I look forward to helping you celebrate in style.

Favorite Quotes:
"A Girl Should be Two Things, Fabulous & Classy"
~Coco Chanel
"Sometimes You Have to Stop and Smell the Roses"
~ Mesita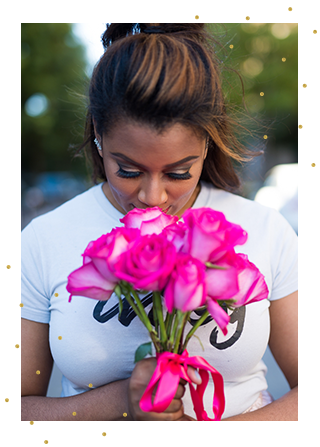 Cheers to stylish events & margaritas!
XOXO Mesita